Technically Friday is now over. But I still want to squeeze in my Friday Five Feel Goods any ways! I ended up having a busier day than I had originally planned. But it was a good kind of busier, the kind I'm totally okay with.
My mom made a last minute trip to Logan and surprised me by picking me up after my classes. We then went on a delicious lunch date to one of my favorite pizza places in Logan (which I plan on featuring soon as a Logan Love post) and after lunch we went antique shopping. If I had the money, I swear I would blow it all on antiques. My mom got some finds which I was probably slightly jealous of. I still wish she would have bought the record player so I could be jealous of that. Guys, it was the most beautiful contraption I've ever laid eyes on. And I gingerly pulled the doors open: on one side sat the loveliest AM/FM radio and on the other a record player. Then to tickle my fancy further, I looked on the tag to see in big bold letters with several exclamation points, "WORKS!!" Although my mom did not purchase the record player, she did make a purchase for me, which I'll tell you about soon enough.
Anyhow, after my adventure with my mom, Brian and I went on a double date with our dear friends, Lauren and Richie. We went to a hockey game. USU played Colorado State. USU won 3-2. Way to go, boys. I discovered I like hockey. It's fascinating. My favorite part is when the players get in trouble they get sent to the box. It's like little kid time-out for big tough hockey players. But it's even better since they sit in a glass box. I'm still laughing about it. Immature? Maybe. But I don't care. After the game, we also got dessert at Chilis and stayed there laughing and chatting until our waitress started making rude comments and giving us the death glare.
And now that I've told you about my whole entire Friday (which you probably didn't care to hear about), let's get on to five things that are currently making me feel goooood.
1.
Pretty, pretty flowers. While at Smith's Marketplace this past week, I recognized the flower bouquets were buy one get one half off. So I thought to myself, "Why not? Flowers are delightful. I wouldn't mind spending a small sum of money for slightly beat-up flowers." So I did. The colorful arrangement on the right is brightening up our kitchen at this very moment and I gave the purple ones away to a friend.
2.
Infinity scarves. I about bought one this week. . .but I'm trying to hold out for Christmas. Yes, it's on my Christmas wish list. A thick and comforting infinity scarf that I may wrap many times snugly around my neck (which is usually bare due to my hair being too short to protect it) sounds glorious.
3.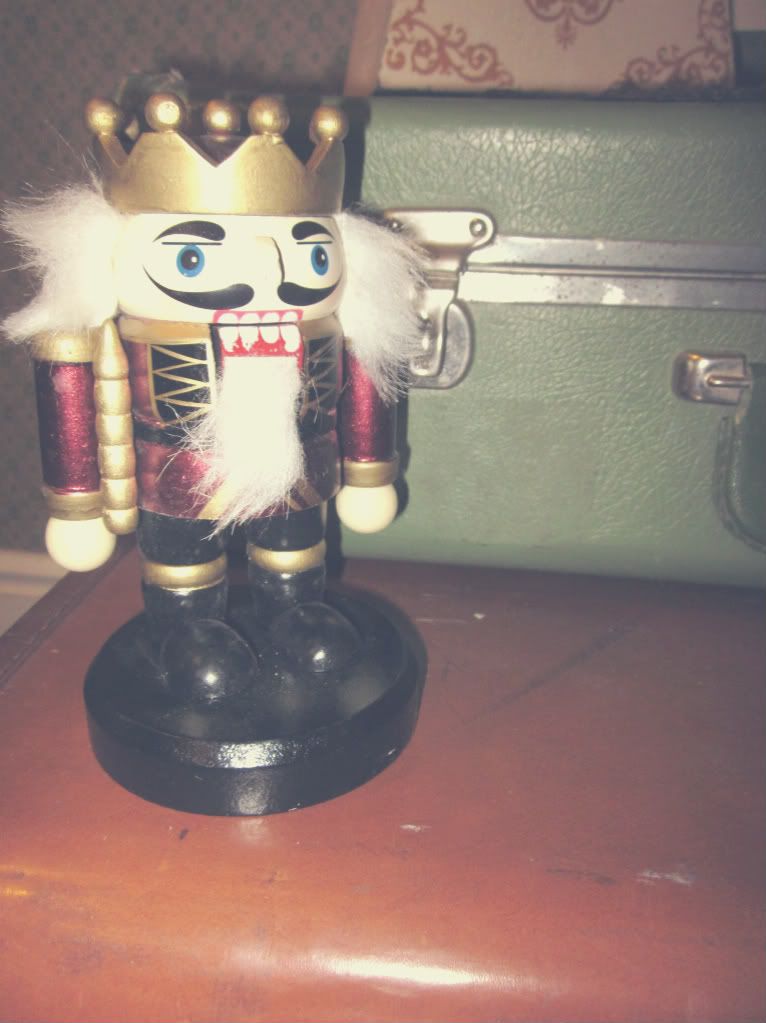 Nutcrackers make me happy. Especially this miniature guy I scored for two bucks. I am so excited about the holidays. Don't worry, he won't be set out as a decoration until the day after Thanksgiving.
4.
And speaking of Christmas, this is what my mom so kindly bought for me. Vintage Christmas ornaments still in their original box. It makes me giddy just thinking of hanging these on our very own Christmas tree in a week's time. I am thrilled for mine and Brian's first Christmas together. Thrilled. And a BIG thanks to my mom for buying these for me. She is too awesome.
5.
Words can't even explain how good I feel about the release of this trailer. I'll be counting down the days for when this movie comes out. I sure hope the movies live up to the books. Ah, Hunger Games. I love you.
If you are interested in guest posting your very own "Five Feel Goods" on A Little Bird Told Me, please contact me at kelsey.keller@aggiemail.usu.edu. I would love to have you. There are always so many things surrounding us to feel good about :).