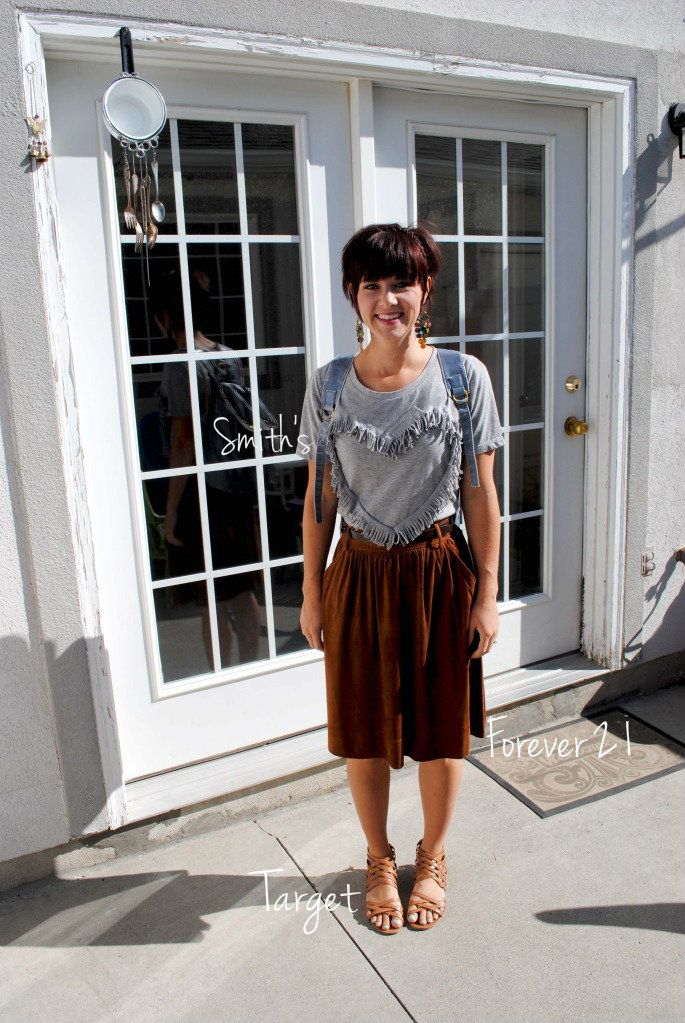 Top: Smith's, skirt: Forever 21, sandals: Target, earrings: Claire's, backpack: Smith's
Due to being under the weather this week, I didn't get around to taking outfit pictures. I did get ready for school every day, I'm happy to say. However, my nose was rubbed raw from tissues so I doubt my pictures would have been very glamorous. Not that these are much better. But all the same, I present to you pictures of me wearing clothes!
This is actually what I wore on Monday to what will be my LAST EVER first day of school. Since it was such a monumental moment, I so politely asked BWell to snap some pictures on our patio before I ran off to class (which I was almost late for on the first day, oops). I am very glad I now had Brian take "first day of school" photos since I can fall back on them for a Sunday Best post. Otherwise, I would have nothing for you, as I am now wearing basketball shorts, a t-shirt, and no bra. I am positive you would rather not see pictures of that. So I give you what I wore to school. And yes, I attempted to do a Dutch braid in my hair and I failed miserably. As a result of losing patience, I instead just started twisting hair and pinning it in place. I think it ended up looking cool anyways.
Sidenote: I learned in my Consumer and the Market class that shopping at Forever 21 is not an investment. At least that is what came out of my professor's mouth. However, I beg to differ. This skirt I'm wearing. . .so soft. When it falls apart I'll just use it as a blanket. How's that for investment?