2012 came and it went, and just like that it is now 2013. 2012 was a good year for me. A lot of fun things happened and I really tried to focus on just slowing down. I still didn't figure out for sure what I want to do with my life in the last grand year. However, I do know that until I figure it out (whenever that will be) I will be surrounded by good people who support me. And I know that part of the fun in figuring life out is the journey in getting there. The last year was full of adventures, both big and small. And I always had some of my favorite people next to my side to join me in each adventure. Looking back on the year, it's fun to see my small individual successes, but the real things that stand out with great importance to me are all my relationships with others. Here's hoping that in 2013 I can continue to strengthen relationships and find time for those I love.
Now here is a little rundown of 2012 by the month. Brian and I are pretty blessed people if I do say so myself.
In January, I ran my first half marathon in St. George. I only trained for a few weeks and it poured rain for most of the race, but being with my mom and aunt made it all worth it. So worth it that I became addicted and ran many more half marathons in the months ahead. We also went to Aggie basketball games and enjoyed what little snow we got.We also became obsessed with the television series 24 and watched tons of episodes at night instead of sleeping.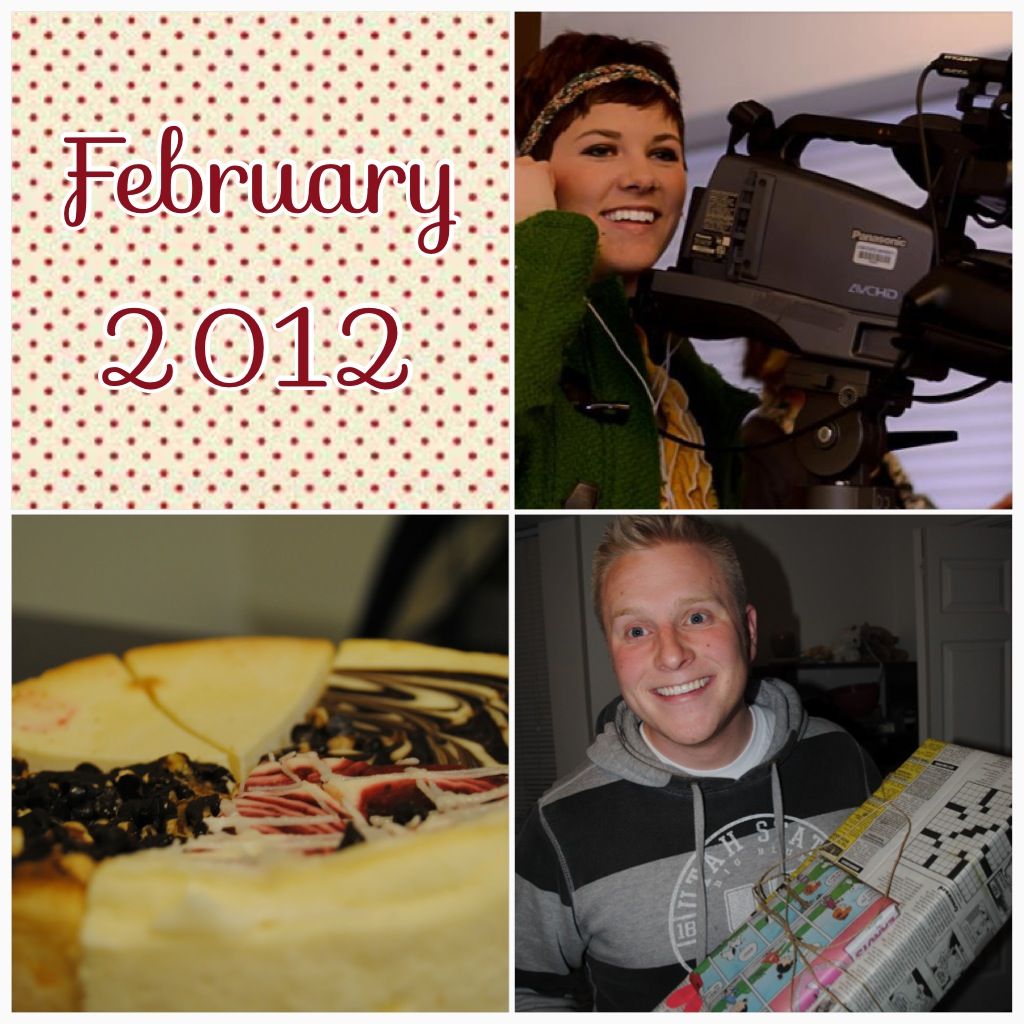 February was a busy month. I constantly had a camera in tow due to taking newscast
and
a documentary class at the same time. We celebrated Valentine's Day with cheesecake and homework. I bought Brian a razor scooter so he could go on future rides with me. Then the carrying the camera equipment around paid off when I started selling some of my stories to news stations in Salt Lake.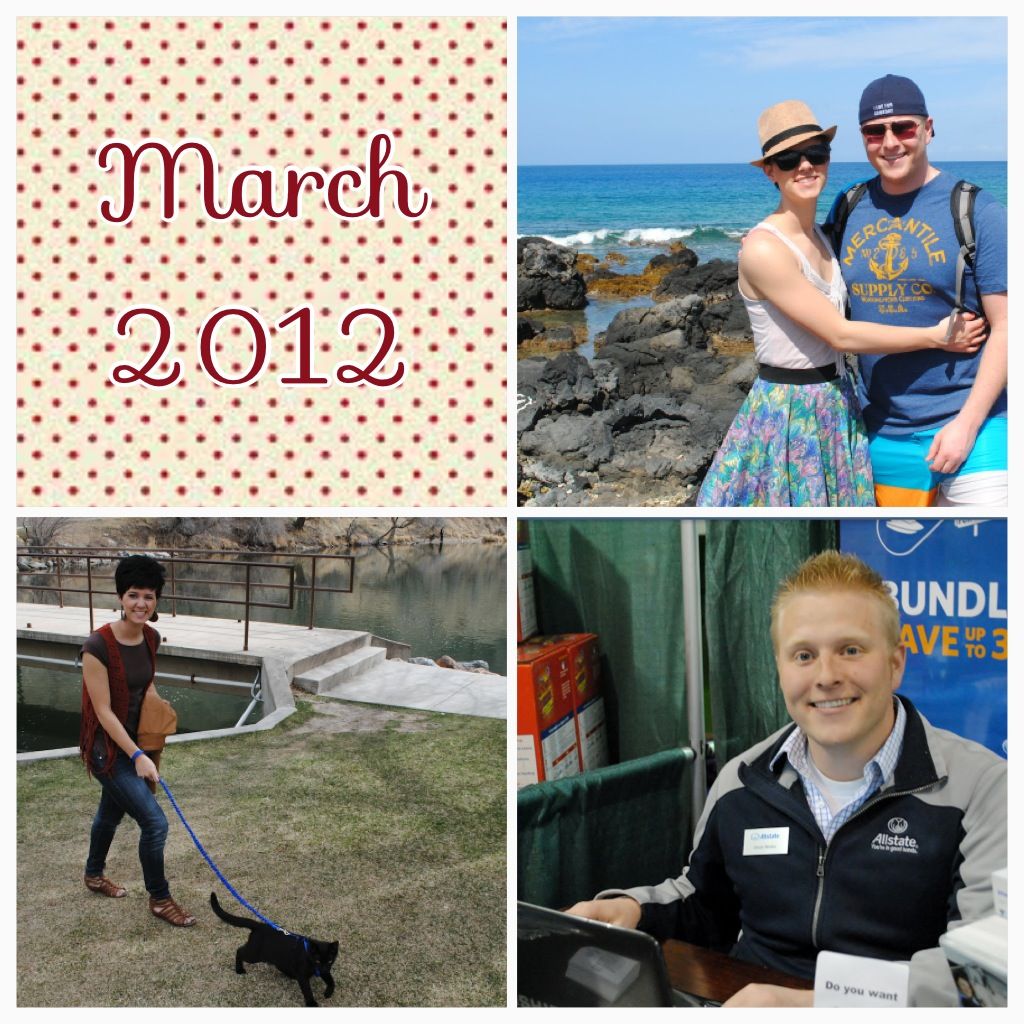 In March, we went on a last minute spring break trip to Hawaii with my family. We also bought Luna a "come-with-me-kitty" leash. We envisioned walks through the park with a happy kitty. . .but in reality she despised everything about her leash. We did receive interesting looks from people though. Brian also set up a booth at the Cache Valley Home & Garden Show. We also went to Baby Animal Days (it's tradition).
I ran a color run 5k with family and friends in April. Brian also turned 24 and got a new grill (he's a real man now). I also went to Ingrid Michaelson's concert with my gal pal, Shayla.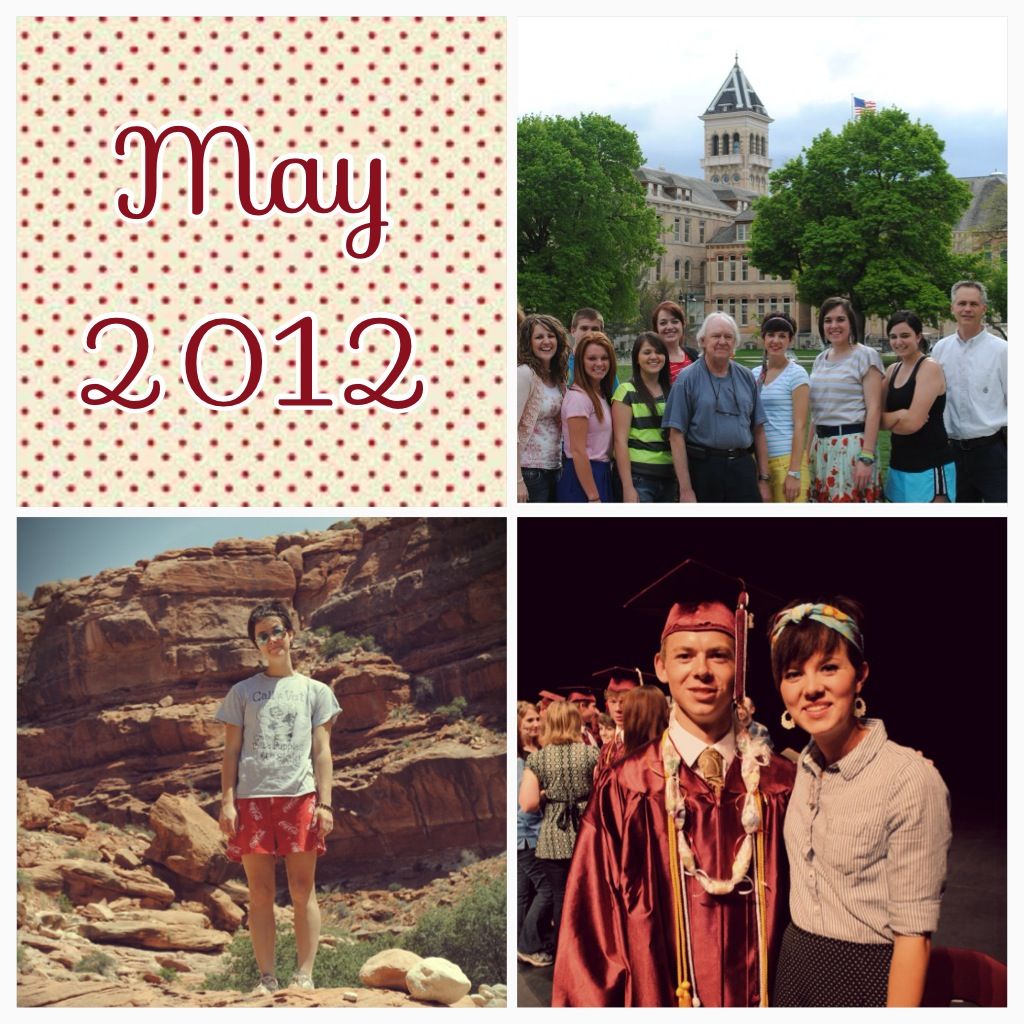 In May, I survived my junior year of school. Not only that, but I received a scholarship and said goodbye to the ATV News team for the summer. To celebrate school ending, Brian and I traveled to Arizona and hiked down to Havasupai Falls. We were filthy and sore after, but the views of the waterfalls were incredible. We also went to Vegas for Allstate Corporate meetings. Brian sat in meetings all day and I sat by the pool and read. I went to Boise and watched my brother pole vault in the high school state track & field meet. Then I also watched my brother graduate from West Side High.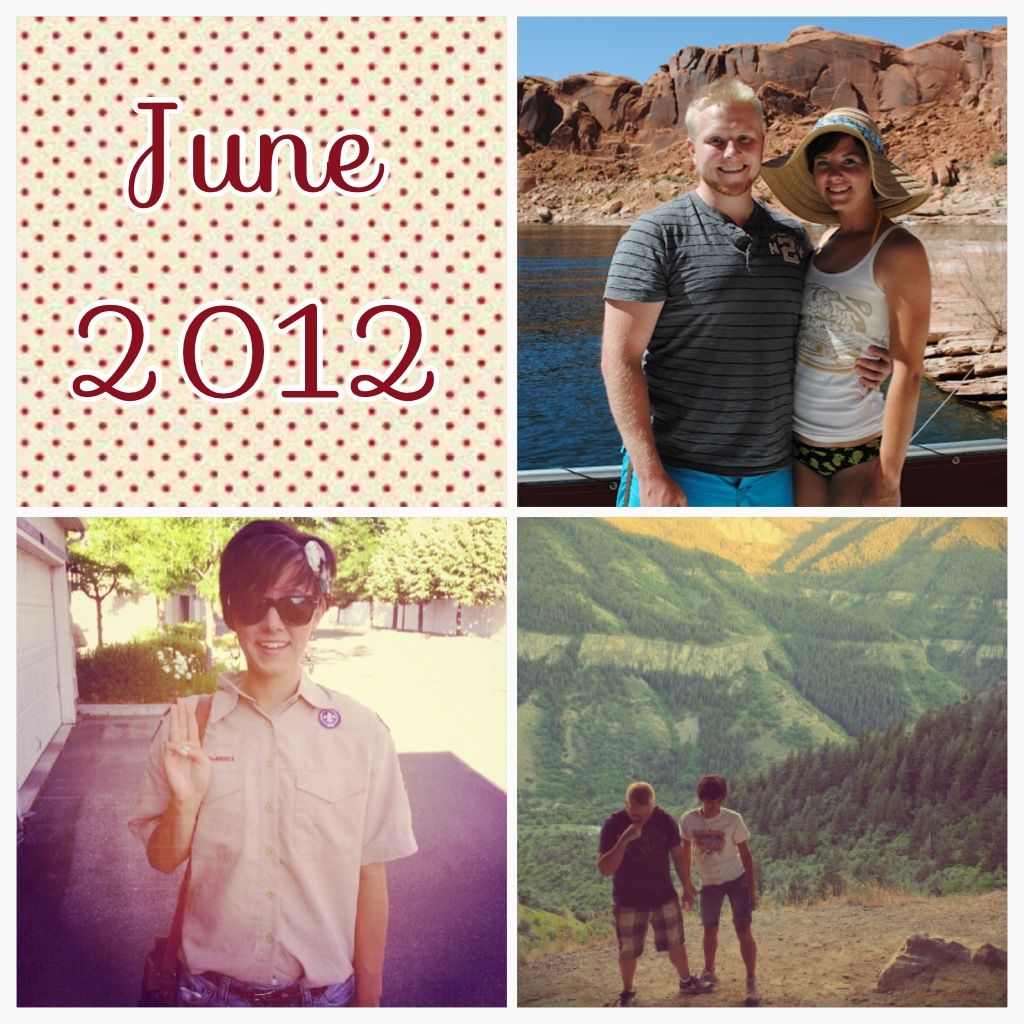 In June, we went to Lake Powell with Brian's family. After being there a whole week, it was rough coming back to reality. We also got a church calling to teach the oldest group of primary kids (they're a hoot) as well as 11 year old boy scouts. We also spent a good amount of the month hiking the splendid trails of Logan Canyon and camping too. Many summer evenings were spent with friends on our flower-infested patio, eating food and playing cards. Oh, I also ran another half marathon. This time I really trained for it, and Brian ran it with me!
With the coming of July, we said hello to plenty of time at the lake. We also anxiously awaited the release of
The Dark Knight Rises
. We made shirts and had Batman marathons to pass the time. We also went on a trip to Jackson Hole and did some wild river rafting with my family and some of our family friends. I also did more freelance work for Salt Lake stations.
August was special because we celebrated our first anniversary. And what better way to celebrate such a milestone than by going to Wyoming? That's what we did. We also went to Les Miserables in Cedar City and took part in some excellent hiking while in the area. We released 99 red balloons on my mom's birthday. Bri and I started our senior year at USU. I was also a peer mentor for a group of incoming freshmen. And I ran another half marathon.
In September, we were immersed in school and work. I reported on some awesome stories and even sat in a dragster for one of them. I anchored so much on ATV News that I'm sure the masses were just sick of me. And we found some free time to enjoy beautiful fall with plenty of mountain rides, jogs, and hikes.
In October, we became obsessed with all things Halloween. We went shopping for the perfect pumpkins and watched an overload of scary movies. My best friend got engaged. We also traveled to San Francisco for our Fall Break. We ended the month right with a Halloween party where we hosted as the Romneys. I also protected our perfect pumpkins on Hallow's Eve by chasing away a herd of hoodlum high school delinquents that dared to think they could get away with smashing
our
jack-o-lanterns.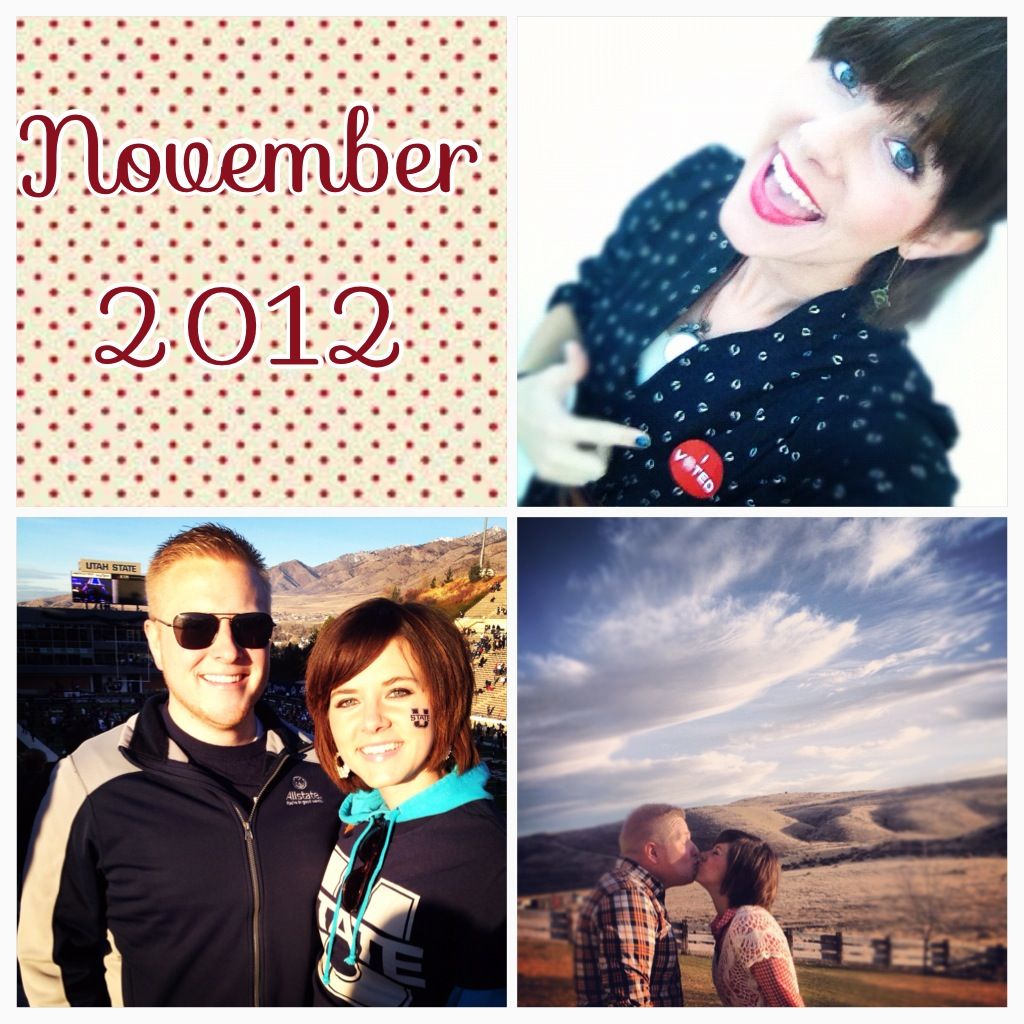 In the month of November, I voted for the first time. We also cheered our Aggies on to being WAC champs in football. We celebrated Thanksgiving and we were very grateful for each other (duh).
We survived Finals Week and then went on to freedom for the rest of December. We welcomed the snow with such excitement that we probably scared our neighbors. My best friend got married. I spent my first Christmas away from home. Brian went way over our Christmas budget and surprised me with a new car (pictures to come). I celebrated my 22nd birthday.
As you can see, 2012 was good to me. I had some fun, made some mistakes, grew up a little, and laughed a lot. I'm excited to see what 2013 brings. As long as I graduate from school and find a job I like, I should be content. Happy New Year, punks.