I read a quote about reading. It goes like this:
"Reading is to the mind what exercise is to the body." -Joseph Addison
If you read my post about
setting my goals for 2013
, then you know that one of my main goals is to read a book a month. Well, my "Book-A-Month Challenge" is now the real deal. I assigned each month a book I've been itching to read.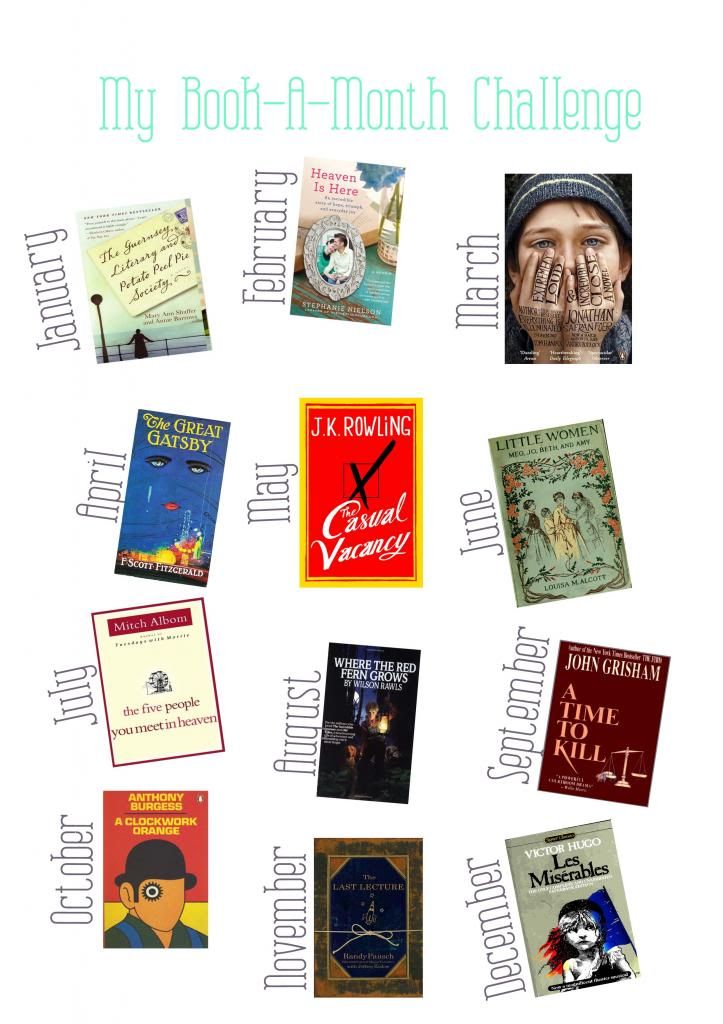 Now that each month has a book to match it, I'm really extra excited to start working on this adventure. A few of these books are ones I've made friends with before. I read
The Great Gatsby
and
Les Miserables
in high school (I was wild about them both). And
Little Women
and
Where the Red Fern Grows
were two of my favorites in grade school. Hopefully I can even get ahead of my schedule and read some other books as well. Some of those others I hope to get to are the
Delirium series,
The Lovely Bones,
and
A Tale of Two Cities.
I'm sure I will squeeze in something by Mary Higgins Clark as well, because I can never resist her. If I get ahead of my schedule, then I will simply move on to the next book in line. Here it goes. I am thrilled to get my mind toned and in shape. Join me if it suits your fancy.