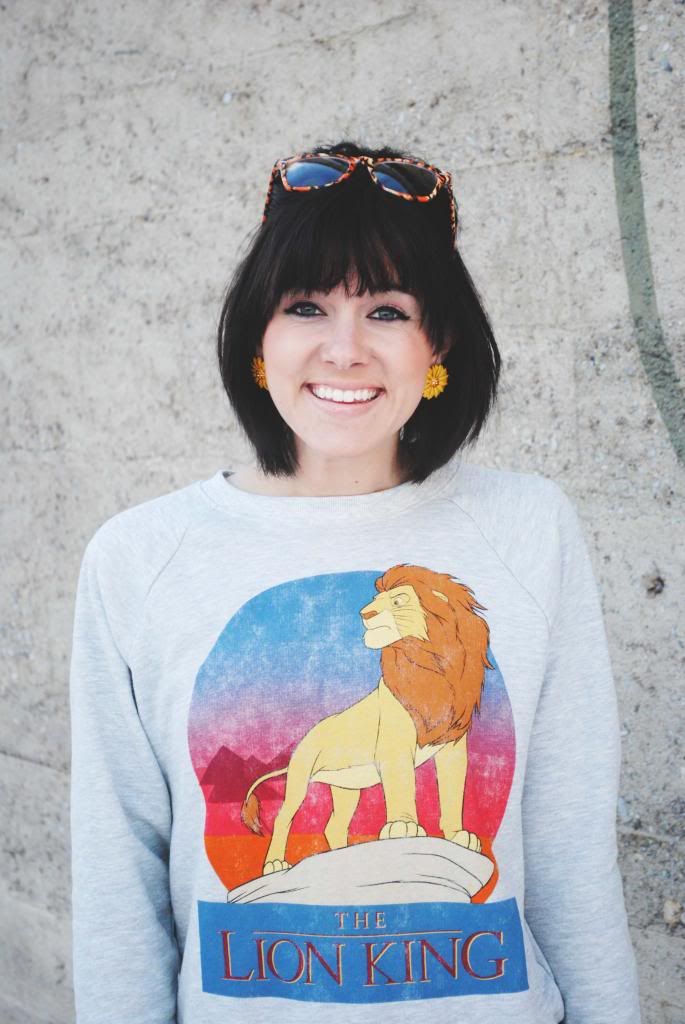 sweater: F21, colored jeans: Head Over Heels, boots: Fashion Box, glasses: gift, earrings: Target
Without fail, I still sob like a baby every time I watch The Lion King and Mufasa dies. I mean, come on. That scene is one of the more heart-wrenching of all movie scenes if you ask me.
Disney just knows how to tug at the heartstrings. And they also know how to make money. Movies, amusement parks, and now superbly awesome sweaters. What will they do to me next?
And while we are on the subject of Disney, I highly suggest you give the Disney songs station a try on Pandora. It's one of my more favorite things when they play a Lion King tune. That was a good call getting Elton John involved on the soundtrack. Say what you want about the man, I love him. He's a musical genius.
Also, I felt like my animal print glasses were an appropriate thing to wear with this outfit. I don't wear them often. They are a little. . .loud. Like rawr loud. I also can't help but feel a bit self conscious when wearing fake glasses since I have perfect eye sight. I get that the whole trend is a little ridiculous. But still fun. However, I did once lie to my grandpa at a family function when I was wearing a pair.
"Why are you wearing those ridiculous glasses, Kelsey?"
"No Grandpa, these are new sunglasses. They protect my eyes from the sun without being all dark."
I don't think he believed me. But he didn't push the subject. So I guess it kinda worked.