I love looking ahead to a new year. A fresh start. But it's also fun to look back on the last year and smile at the fun memories, remember the hardships and just realize how much of an impact 12 months can have. Here's a quick look at my 2013.
In January, we started what would be our last semester EVER of school. I spent as many days as I could snowboarding with my little brother at Beaver Mountain and we even took our friend from Ethiopia for his first time on the slopes.
February was spent doing lots of homework . . . including homework for my billiards class. I became a little obsessed and drug Brian to the pool hall on more than one occasion. It payed off though because I ended up winning our eight ball tournament in my billiards class. On top of school work, I also started my job as a morning deejay on Utah's VFX. In other words, my social life quickly died in the month of February since I had to go in to the studio every morning at 5:30 and then straight to classes after. My bedtime ended up being at 9:30 pm. It was all worth it though since I LOVE my job. Brian also got called into the bishopric during this month. Needless to say, we saw a lot less of each other.
With March came Spring Break. Conveniently enough, Brian had Allstate meetings in Las Vegas that very same week. I took time off from work and we made a trip out of it. While BWell went to meetings all morning, I spent time by the pool reading. We also went to the Beatles Love Show, something that's been high on my bucket list for a very long time. We also ate lots of good food, visited the dolphins at The Mirage, went shopping, and did a bit of gambling. In the month of March, I also had a neat experience where I got to do a few stories for Channel 4 News. We're talking shooting, writing and editing. It was high stress but great fun.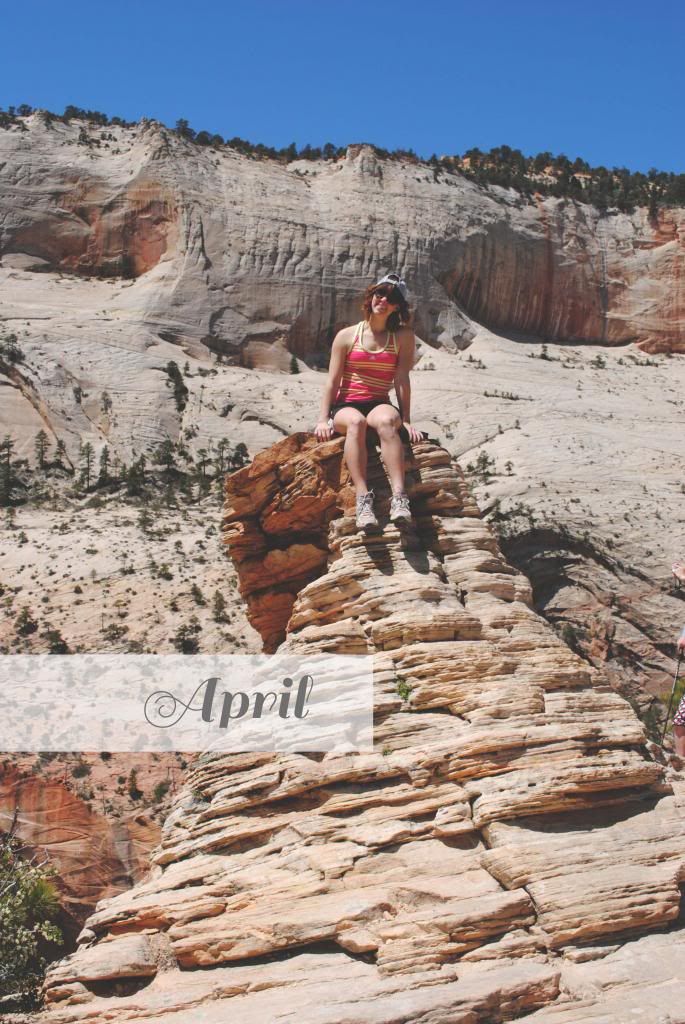 In April, I surprised Brian for his birthday with a weekend getaway to St. George. His birthday also happened to be the weekend before finals week. So we didn't study hardly at all for our last finals. Instead, we went swimming and spent time hiking in Zion National Park. Worth it. I also jumped on the ombre hair bandwagon. Oh, and I dyed a streak of my hair Aggie Blue too.
May was an exciting month! We both earned our degrees from Utah State University. Brian was nice enough to walk with me so we didn't have to suffer through two separate ceremonies. During this month, my mom, my aunt, Brian, and I ran the Ogden Half Marathon. It poured rain during the entire race. In May, I also started writing for Cache Valley Daily and my brother received his mission call to California.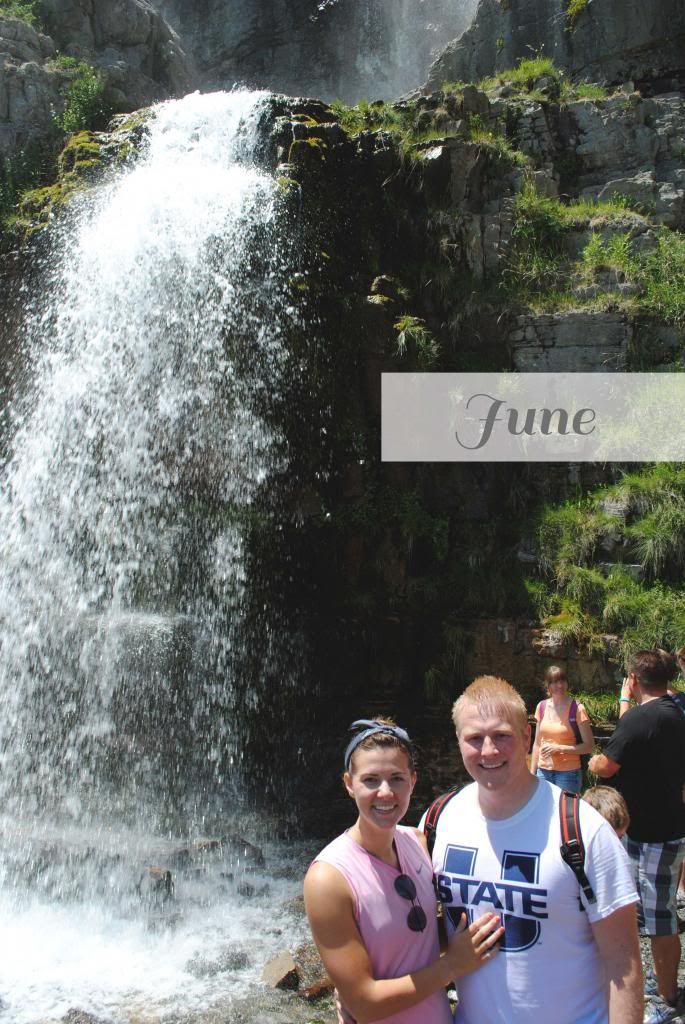 The month of June brought a few fun trips. We spent a weekend in Park City at Sundance Resort. We stayed in a cozy small cabin and watched some Robert Redford films. We also hiked to Stewart Falls and did some shopping at the outlets. We went to Lake Powell for a few days with Brian's family in the month of June as well. BWell also opened up his second insurance office and it was all celebrating over here. I also started serving as an Activity Days Leader in my church ward. Brian and I also decided to start looking into purchasing a house but we kept it on the down low.
July was a month filled with family time. Brian's siblings came to Utah for Independence Day. We hung out with them and watched fireworks that night on the boat. We also spent as much time as possible with Jace before he left on his mission at the end of the month. We went fluming, swimming and mountain exploring with my family. I also served as Assistant Camp Director for girls' camp and July was the month of camping. We had an amazing time and ate like queens. Toward the end of July, we had our annual party with my mom's family at Bear Lake. Only a couple days after Bear Lake, my dashing brother packed his bags and we dropped him off at the MTC, saying goodbye for two years.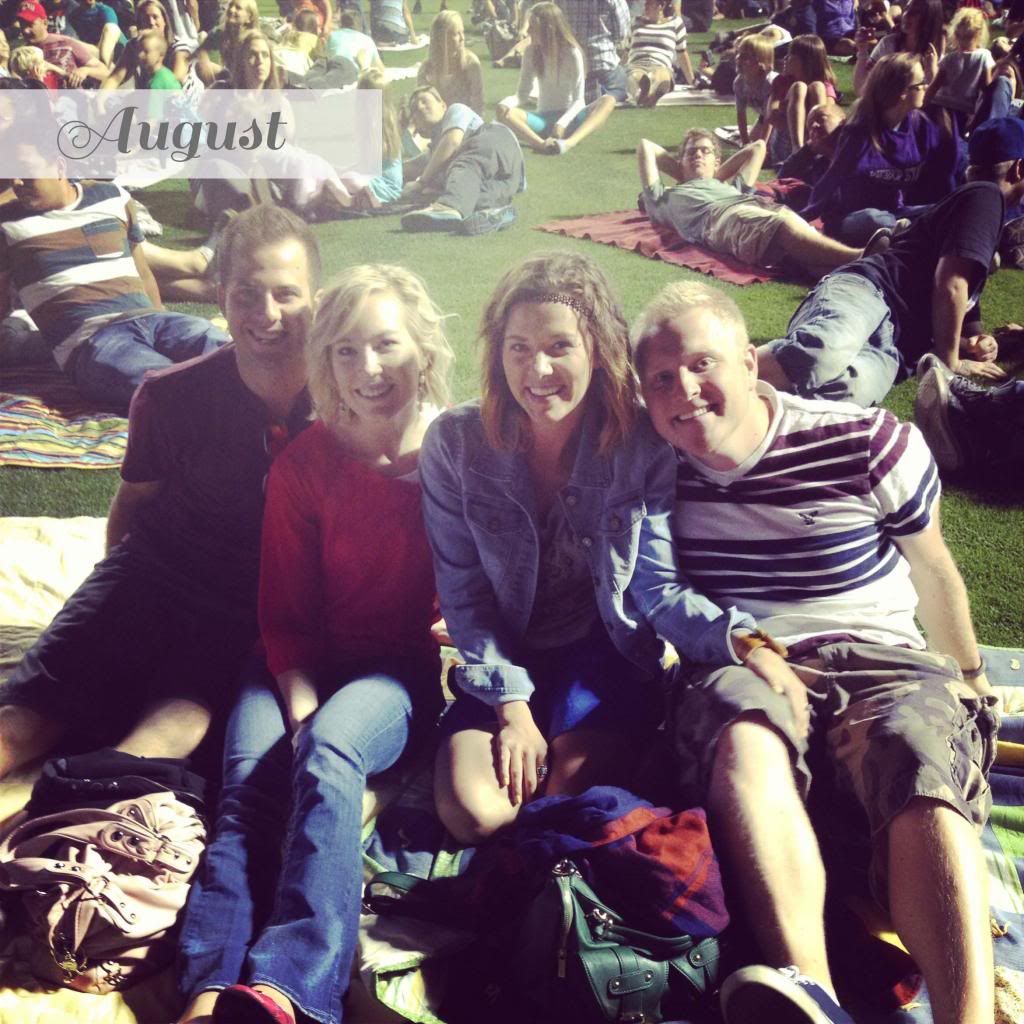 In August, we celebrated our second anniversary. It seems like we spent every weekend hiking. I also went to my very first Bees' game and we went with our friends Jace and Shay. August was also fair time. It also felt very satisfying when everyone went back to school but we didn't have to.
September. Ah, September. This was the month we bought our bungalow. As soon as we were handed the keys, we ran over to Home Depot and bought paint. We had a lot of work ahead of us. From there on out, we spent all of September prepping our home. We repainted nearly every room in the house. Boy, it was a lot of work. But it was worth it. From all the painting, packing and other manual labor, my arm muscles grew and Brian and I grew closer together too.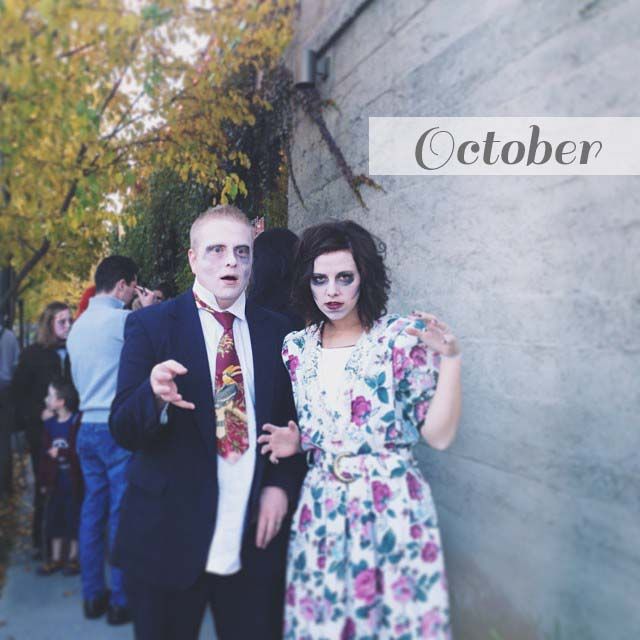 October is always a favorite month and this year's didn't fail me. We moved into our new old house and continued working to make it our home. The first week of October, I went to Brave Girls' Camp with my mom. We created art in a little barn in Idaho, surrounded by women from all over the world. We entered the barn as strangers and left as sisters. BWell and I went a little overboard on Halloween. We dressed like zombies and donated canned food for our town's Zombie Walk (an annual event for our local food pantry). We were glued to our television watching scary movies. We wrapped up the month and the Halloween holiday with a friend Halloween party.
Basically the whole month of November, I was battling a bad cold but that didn't stop me from fitting in some fun. I went to a Selena Gomez concert with my mom and sisters. We also took my sister, Chloe, to her first USU football game. We hosted Thanksgiving at our bungalow and that was quite an adventure. Thankfully, Brian's family is awesome in the kitchen . . . so they brought the food to us. After getting so sick of my longer hair that I wanted to pull it out, I chopped it all off instead. In November, I also wrote a blog post that went viral. That was a strange experience.
December was filled with everything Christmas. We were able to spend a lot of time with our families. We finally got to meet our sweet little baby niece and we Skyped with my brother on Christmas Day. We also hosted way too many parties. By the end of the month, I think we just wanted to lock our doors and hide inside for a while. We bought ourselves an early Christmas present . . . a treadmill! Hello to working out at home. In between Christmas and New Year's, I celebrated my 23rd birthday.
******
To be honest, 2013 wasn't my best year. On the surface, it looks great. I earned my degree and bought my first house. I still have good health and all the necessities of life, so I can't really complain. However, 2013 was a hard year for me personally. I experienced lots of doubt and faced my insecurities head on. I battled through some dark patches where I felt completely alone and the hardest part was that during the dark patches, I had to go on with life acting like there was nothing wrong at all. Looking back, I don't really know how I made it through a couple of the past months, through a handful of the last 365 days. But I did it. I kept taking steps forward, praying I'd see some light again. And now there is light all around and light all ahead for the year of 2014. I know this paragraph is very ambiguous. Perhaps one day many days from now, I'll be more comfortable with the trials I faced to talk about them. Or perhaps they'll always stay as they are now, between me and God. Either way, I just wanted to share that I had those days--months--where I just wanted to throw in the towel. We all have them even if we never talk about them. Looking back on 2013, I definitely wouldn't want to relive it . . . but I'm grateful I lived through it once. Hardships bring growth, and I've seen that in myself. When I look in the mirror now, I don't just see a person. I see a soul. And I see souls of others now when I look around me. I'm grateful that 2013 taught me to see the world with different eyes.
Happy 2014! May we all celebrate the good days and be grateful for the hard days.