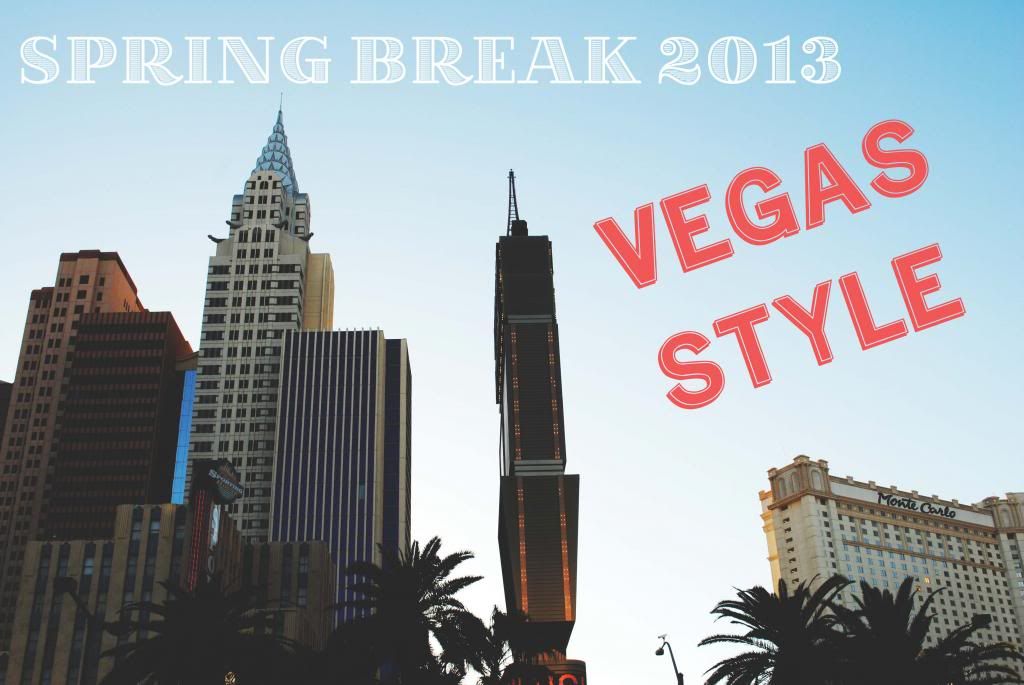 Brian and I have enjoyed some dang good spring breaks together. In 2011 it was a Mexican cruise. In 2012 it was Hawaii. We kept things a little cheaper and more simple by spending this year's week of freedom in Las Vegas. You think we would be sick of Vegas since we've already been three times in our year and a half of marriage. But that crazy town always has something new to offer and I argue that it also has the best people watching in the country. And I like me my people watching. Our days in Sin City didn't disappoint. I think it would be safe to say that we thoroughly enjoyed ourselves. Conveniently enough, Allstate had conferences in Vegas the exact same week as our spring break, so they picked up the tab for our hotel. Thanks, Allstate! You always keep us in good hands. While I missed BWell while he went to a few business conferences, we still ended up having most of our time together. It was nice to just have some carefree "us" time. The only downside is that it had to end. Boo.
A few highlights from the trip:
The Beatles Love Show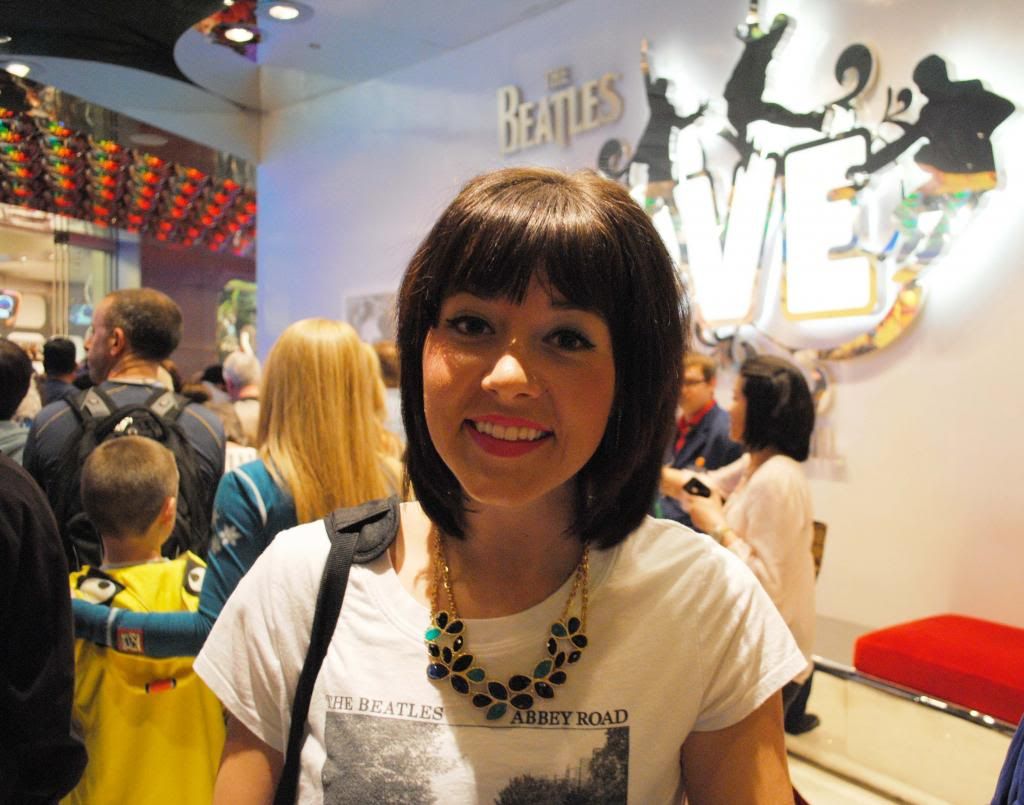 It's been on my bucket list for a while now, so we finally decided to just pay up and get tickets. We ended up getting a sweet deal on our seats and we sat on the second row! I think I could smell the acrobats breath as they swung past me, we were that close. I was in my own little Beatles heaven watching my favorite songs come to life on stage and having colorful confetti spill from the ceiling onto my head. Brian loved it too. If you are a fan of the Beatles (like me) I suggest you plan on going to this show at some point in your life.The only negative of this whole event was that we decided it would be a good idea to walk from our hotel to the Mirage. It was a ways. And then we were almost late. And then we were running through a sea of people. And I was wearing heels. Those heels gave me blisters. Whew. We took a cab back.
Siegfried and Roy's Secret Garden and Dolphin Habitat
This was such a hoot. I mean, really. I don't have photos because I had the video camera out the whole time. So perhaps a video will be shown at some point in time. If I was an animal, I would have to be a dolphin. They are precious. I squealed so much through this exhibit that I may have scared some children. The tigers and lions were cool too, but they were so tired. They mostly just napped and occasionally peered at us like we were such idiots for standing around, watching them.
The Aria and their perfect beds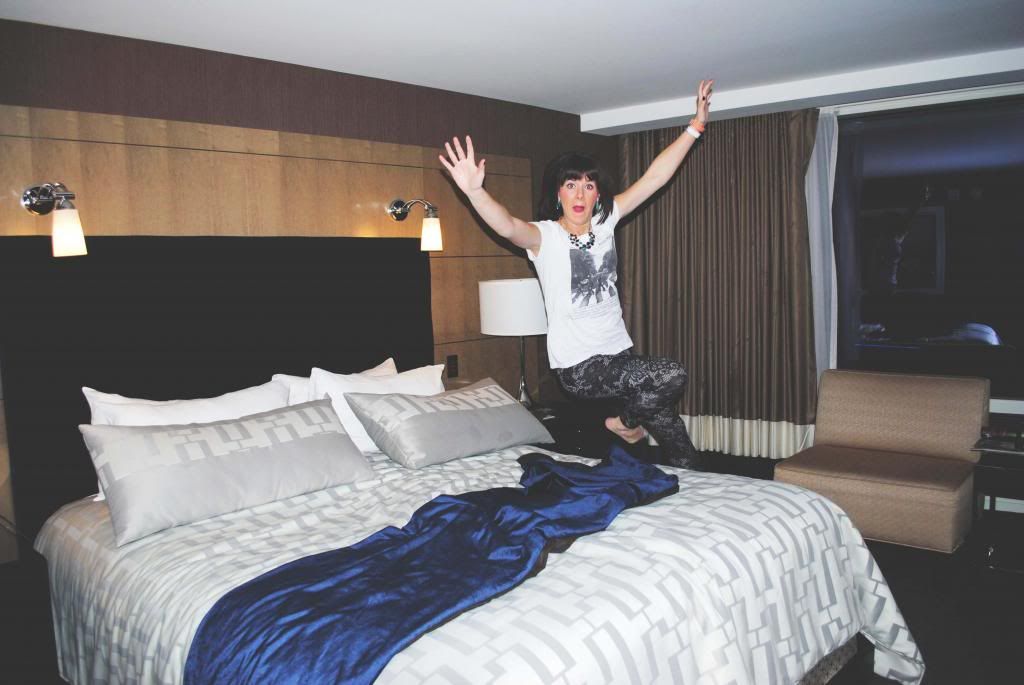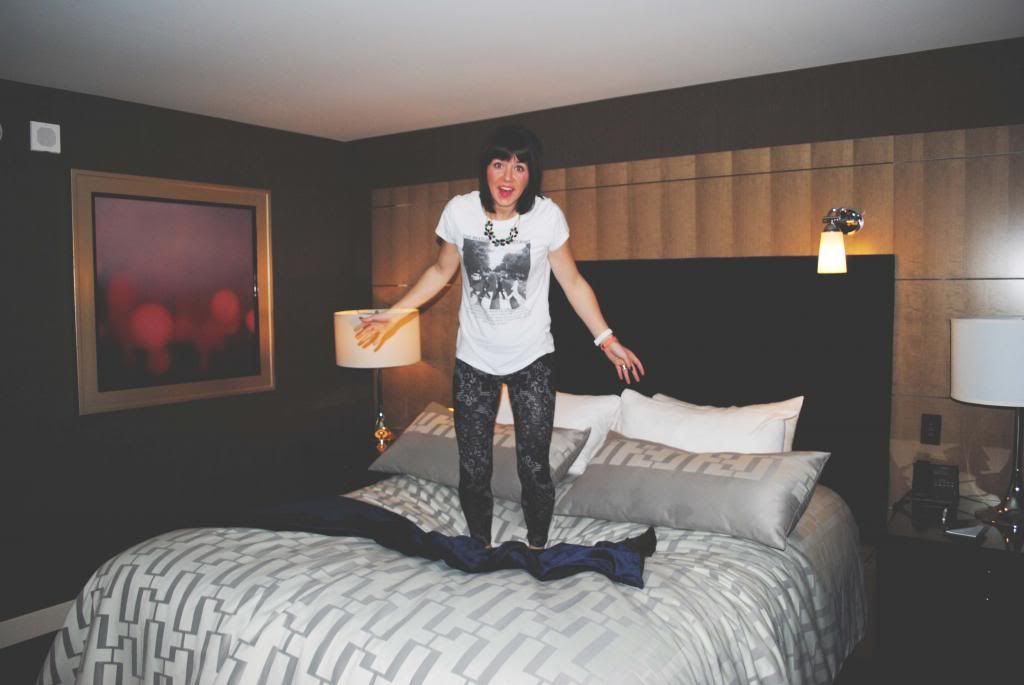 . . .perfect for jumping on, of course. Allstate put us up in the Aria hotel. It was one of the nicest hotels I've ever stayed at. It's only three years old. The beds are stupendously comfy. I wanted to open and reopen the huge curtain to our window over and over again with the remote. I'm kind of a child. My parents are probably disgusted (I swear they taught me better).
Gambling
Yeah, that happened. But don't fret, BWell and I are responsible gamblers. I played at an actual blackjack table for my first time and lucky for me, our dealer was extremely nice. I had a ball until some unkempt, big man sat down next to me and pulled out the largest cigar I've ever laid eyes on. He was such a loud, gross man and he kept blowing his foul cigar smoke right in my face. That ended the game for me and I felt sick the remainder of the night. Bleh. But things could have been worse. I could have been the other guy at our table who was
completely
wasted. He bet 300 dollars on a few hands (hands that weren't even good, mind you) and lost it all. I bet he's really sad now since he lost so much money. He probably doesn't even remember how he lost it.
M&M World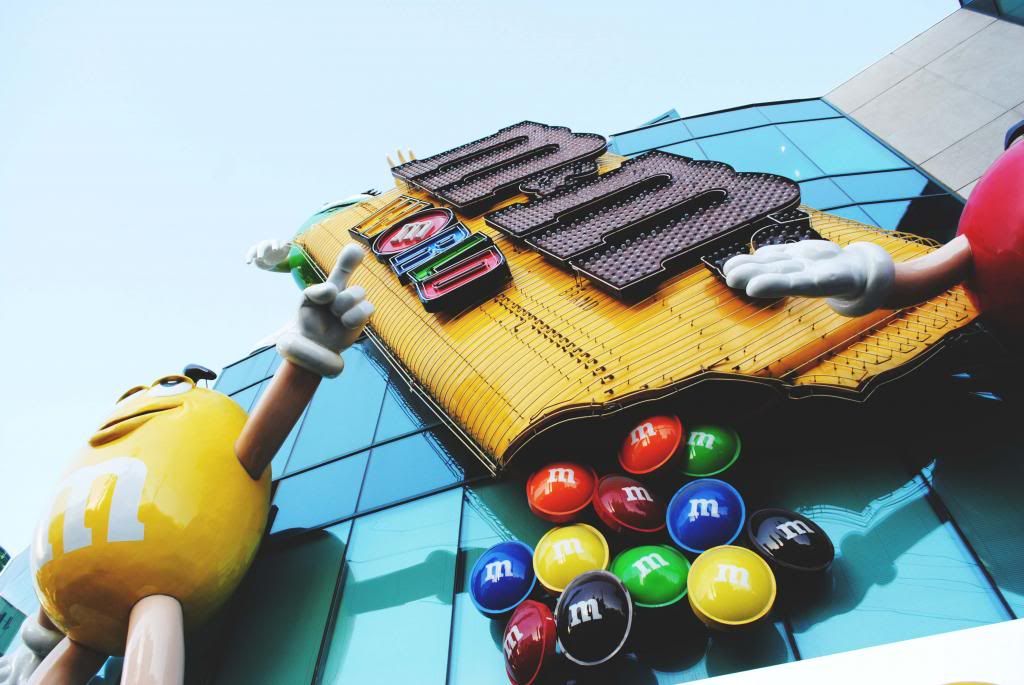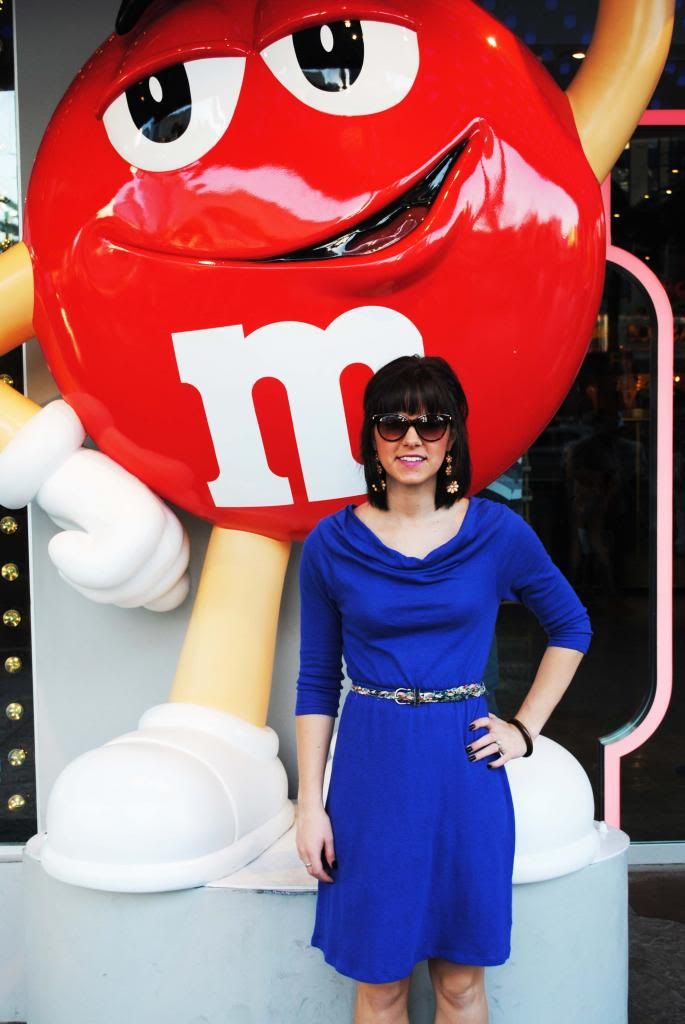 Fun to see, but don't you dare buy a bag of M&Ms there. It's a scam. Sure, you can get any colors you want but you'll also pay an arm and a leg for them. And I promise they don't taste different just because they came out of the bin from M&M World. I really think they need to sell crispy M&Ms there (make that happen, M&M world!). If they did, I definitely would have splurged.
Food
Enough said. I think I gained ten pounds.
A few other things that happened that I shan't forget to mention. . .I drove down the strip to the mall all by myself. I didn't even hyperventilate. Pat on the back for Kelsey. Of course, the pool was a hit. 80 degrees, me likey. We also made friends with our cab drivers because it's one of my favorite things to do. Oh, and Brian bought some dude's album from off the street. We were just innocently walking the strip and he runs toward us, asking us if we'll buy his cd. While I'm thinking to myself, "Who is this crazy guy?" Brian starts pulling cash out of his wallet and says, "Sure, here man!" And then the guy signed it for him. He said, "Who can I write this out to?" Guess what Brian said? "You can make it out to King Brian. That's what they call me."
Something about Vegas turns my husband into a high roller wannabe. I have to say, it's very amusing.
I also have a plethora of iPhone pictures from this trip that will most likely make it on this blog at some point in time. So it aint over yet, folks. Fasten your seat belts.