I've been on a Taylor Swift kick lately . . . like the rest of the world. I've loved Taylor though from day one. I remember the first time I heard her. My friend had just bought her first album. I was in high school. We were cruising down the highway in her jeep, wind snaking through our hair, when she cranked up the volume. Young Taylor crooned "Tim Mcgraw" and I was instantly in love.
Fast forward to her "Speak Now" album and I was in even more love. I listened to that album over and over again. I was now a student at Utah State University. I listened to Taylor on my way to classes, while I did homework, while I did laundry, while I cooked. You name it, I was probably listening to T-Swift.
Believe it or not, this post isn't actually about Taylor Swift at all (even though I'm obsessed). This post is about my little sisters.
One day when I was driving home from campus, I had Taylor's "Speak Now" album playing in my van (yes, this was back before my beloved van broke down). I think I was already in a melancholy mood, thinking about how much homework I had and how much I wished I could be five again. That's when the song "Never Grow Up" came on.
The lyrics hit home for me. I felt like it was me speaking to my two little sisters. The first verse reminded me of my baby sister, Chloe. She was little and goofy, and I never wanted that to change. The second verse talked about wanting to grow up and call your own shots, and I instantly thought of my sister, Lexi. She was, at the time, barely a teenager (and developing the attitude of one). She had always been Miss Independent. The third verse was about me. Imagining my dad getting home from work and playing with my little brother, and wishing I could go back to those simpler times. Everyone always claims they relate to Taylor's songs, right? Usually it's a song about heartbreak or love. For me, in that moment of driving home alone, "Never Grow Up" was my song. I didn't want my siblings to grow up. I wanted them to stay young and innocent. I didn't want to watch my parents grow older. I didn't want to grow older either.
As I got lost in the lyrics, I realized I was crying. What the? I pulled in my parking spot at our townhouse and just had a good pathetic sob over my steering wheel. Growing up can be tough stuff sometimes.
Well, since that day, I still haven't figured out how to keep my sisters little. Chloe is now 12 and Lexi is 16. Sometimes it's still weird to think they're that old and sometimes I still get sad about it. Sometimes I get lost in memories of holding them when they were babies, rubbing my cheek against their fuzzy and small heads. But now they're big. No longer babies. Lexi is dating boys now. She recently went to her first Homecoming dance. She looked gorgeous and grown up in her dress, with her hair all curled and pinned up. She let me do her makeup. Chloe is in middle school now, and she's going through that weird stage of not being a little girl anymore and trying to figure out how to be a young woman. Sometimes I catch her talking about boys. One day she was bragging to me about how an 8th grader asked her, a 6th grader, to wear his football jersey. Then she quickly wiped the grin off her face and said, "I don't care though. I don't like boys." Yeah, we'll see about that.
And even though I sometimes still get sad that my little sisters aren't so little anymore, I have to admit that they're in super fun stages right now. Now that they are getting older and more mature, we act less like siblings and more like friends. I mean, Lexi is basically the only person I ever Snap Chat.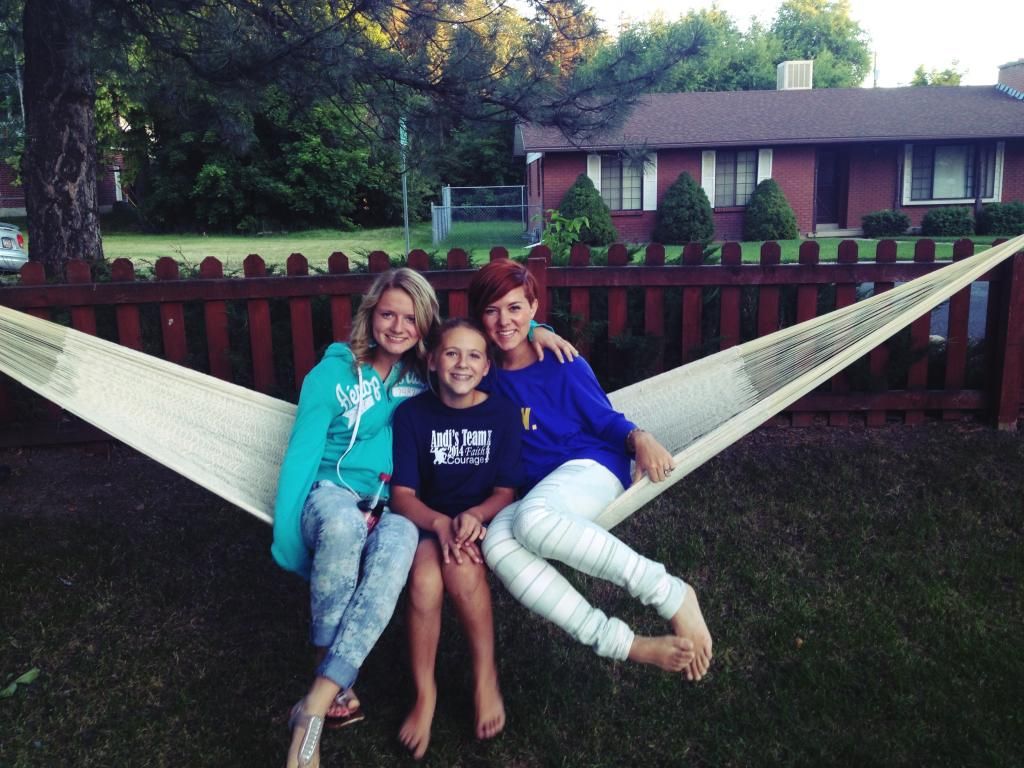 These photos are from the summer when my sisters slept over at my house. We set up a projector and played "Just Dance" outside. We also had a fire and stuffed ourselves with chips, hot dogs, and s'mores. Then we fell asleep in the tent. It was the absolute best night, one of those that leaves you feeling good for weeks.
Growing up is not always fun, but I think there's definitely more good than bad. I'm learning that there is beauty to each stage of life . . . and I really love the stage I'm at right now (and the people who are around to enjoy it with me).
Never Grow Up - Taylor Swift
Your little hands wrapped around my finger
And it's so quiet in the world tonight
Your little eyelids flutter 'cause you're dreaming
So I tuck you in, turn on your favorite night light
To you, everything's funny
You got nothing to regret
I'd give all I have, honey
If you could stay like that
Oh, darling, don't you ever grow up, don't you ever grow up
Just stay this little
Oh, darling, don't you ever grow up, don't you ever grow up
It could stay this simple
I won't let nobody hurt you
Won't let no one break your heart
No, no one will desert you
Just try to never grow up, never grow up
You're in the car on the way to the movies
And you're mortified your mom's dropping you off
At 14, there's just so much you can't do
And you can't wait to move out someday and call your own shots
But don't make her drop you off around the block
Remember that she's getting older, too
And don't lose the way that you dance around
In your PJs getting ready for school
Oh, darling, don't you ever grow up, don't you ever grow up
Just stay this little
Oh, darling, don't you ever grow up, don't you ever grow up
It could stay this simple
No one's ever burned you
Nothing's ever left you scarred
And even though you want to
Just try to never grow up
Take pictures in your mind of your childhood room
Memorize what it sounded like when your dad gets home
Remember the footsteps, remember the words said
And all your little brother's favorite songs
I just realized everything I have
Is someday gonna be gone
So here I am in my new apartment
In a big city, they just dropped me off
It's so much colder than I thought it would be
So I tuck myself in and turn my night light on
Wish I'd never grown up
I wish I'd never grown up
Oh, I don't wanna grow up, wish I'd never grown up
Could still be little
Oh, I don't wanna grow up, wish I'd never grown up
It could still be simple
Oh, darling, don't you ever grow up, don't you ever grow up
Just stay this little
Oh, darling, don't you ever grow up, don't you ever grow up
It could stay this simple
Won't let nobody hurt you
Won't let no one break your heart
And even though you want to
Please try to never grow up
Don't you ever grow up
(Never grow up)
Just never grow up