Wait. What? I have a blog? I completely forgot.
Who has time to blog during the holidays anyhow? But then so many good things happen during the holidays that are begging to be documented. So now, here I am, playing catch up.
There's so much to talk about. Christmas happened. My birthday happened. It's 2015. But let's just stick with Christmas right now, before I start hyperventilating.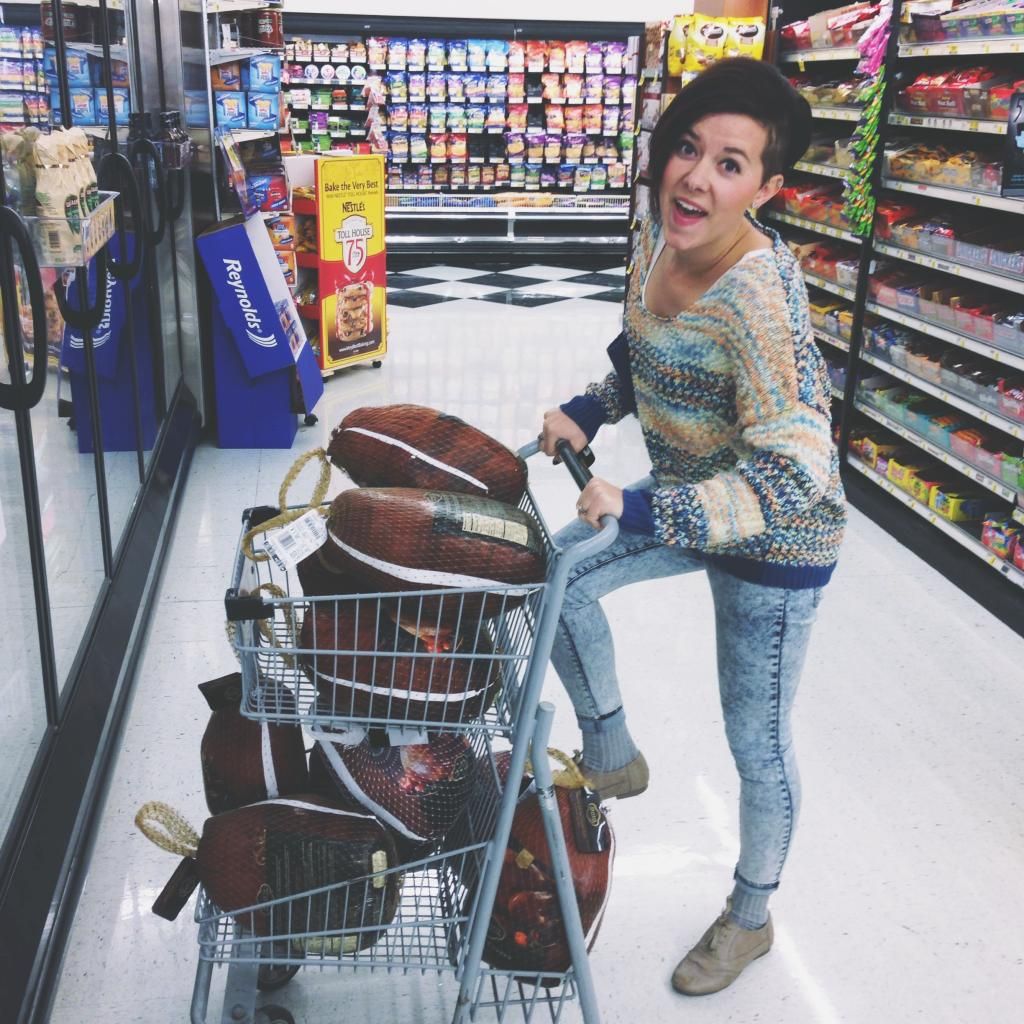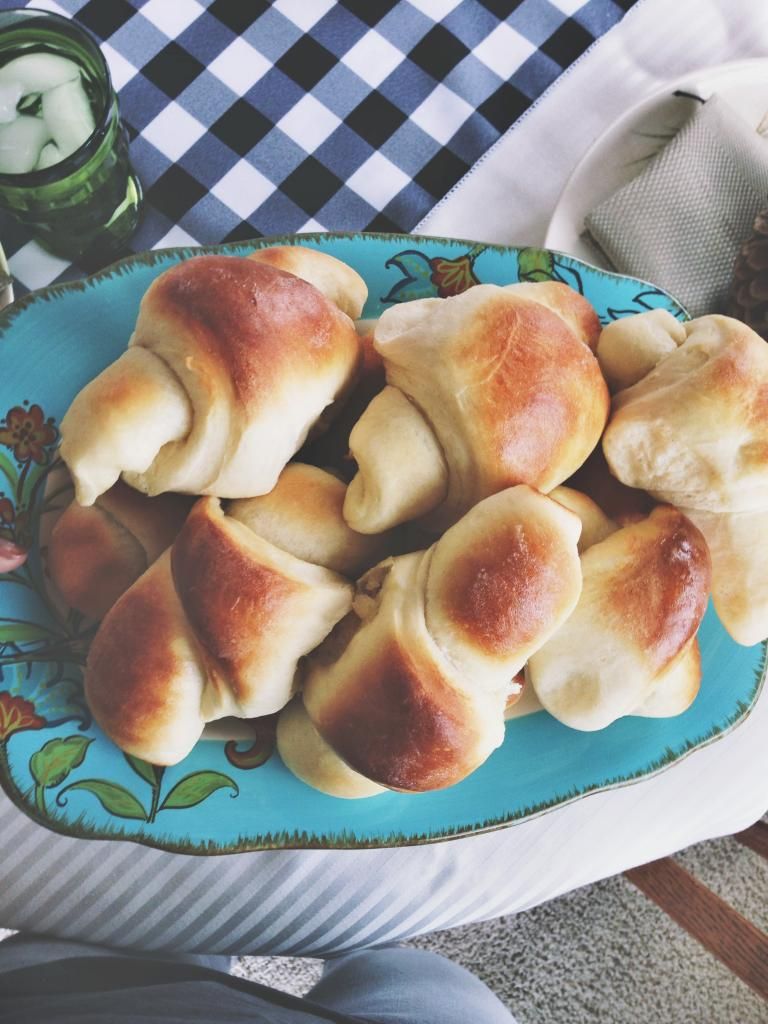 This year was weird for me. The holidays went especially fast. Thanksgiving happened and then in the blink of an eye, it was Christmas. We spent Thanksgiving with my family. The weekend after Thanksgiving, we ran a Santa 5k. All runners dressed as Santa Claus for the race. Brian signed up to do it with me mostly so I'd be happy. This is something I've anxiously been looking forward to for the past year and it didn't disappoint.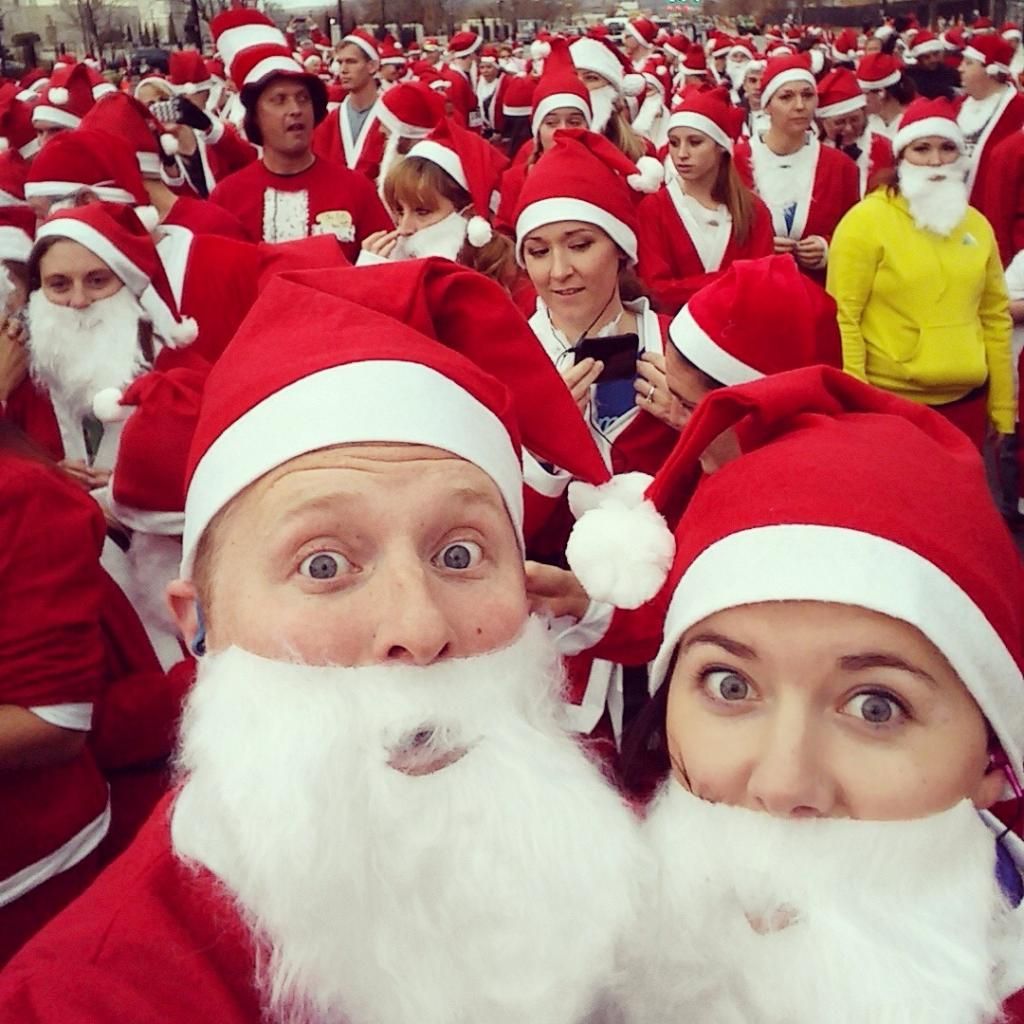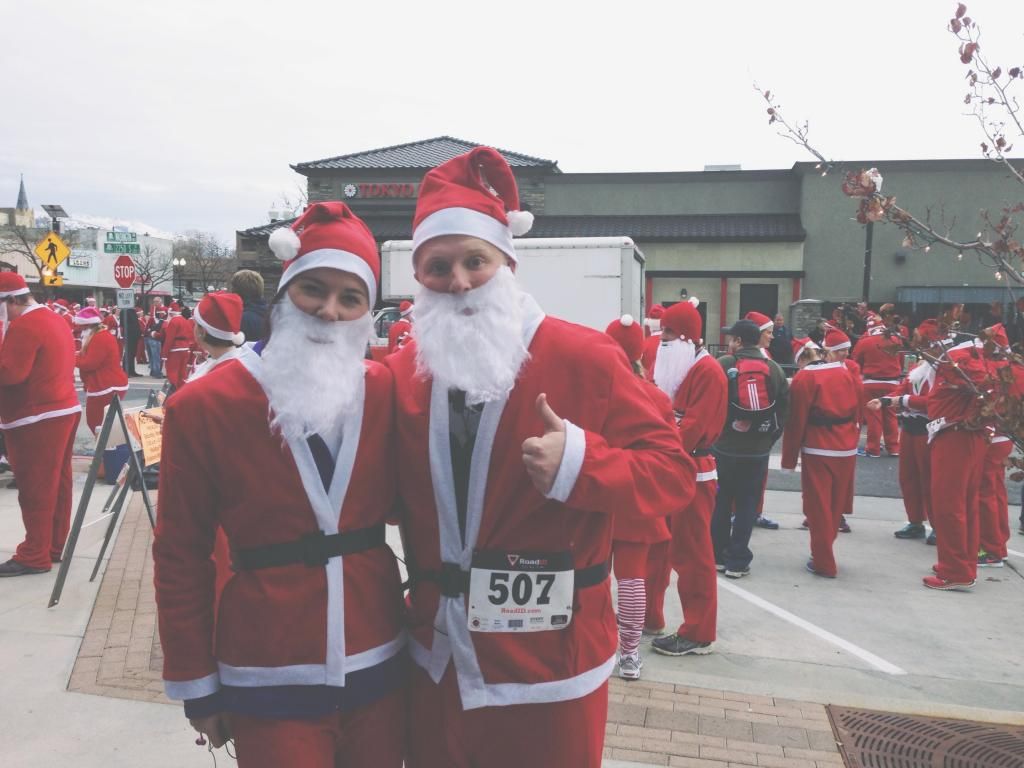 I mean, just imagine it. Hundreds of Santas were running together through the streets of Ogden, Utah. It was a great sea of Santas. I felt like I had an instant bond with my fellow Santa runners. I'm sure they didn't feel any bond, because I'm a wacko person, but that's fine. I felt it. I was beyond excited. That's all that matters. To add to this awesome experience, there was also an aid station where kids dressed as elves passed out milk and cookies. There was water too, but whatever. I know I'm making this all sound very glamorous, however, running several miles in a Santa suit is very hot. And those beards were itchy. Gotta take some bad with the good I suppose.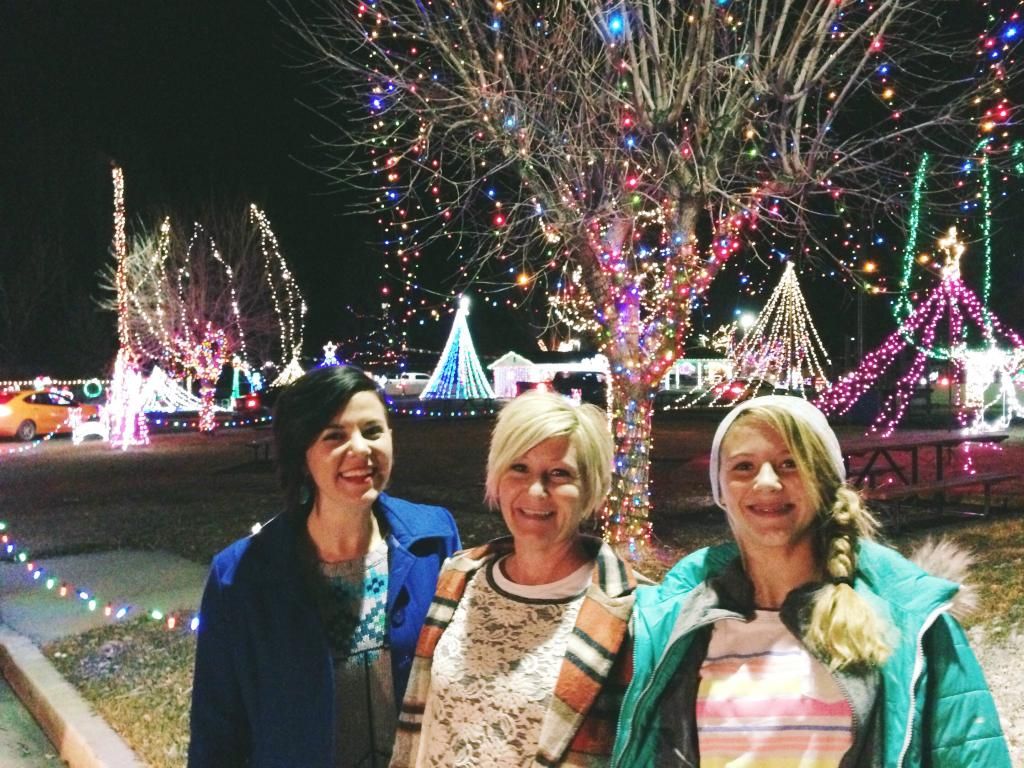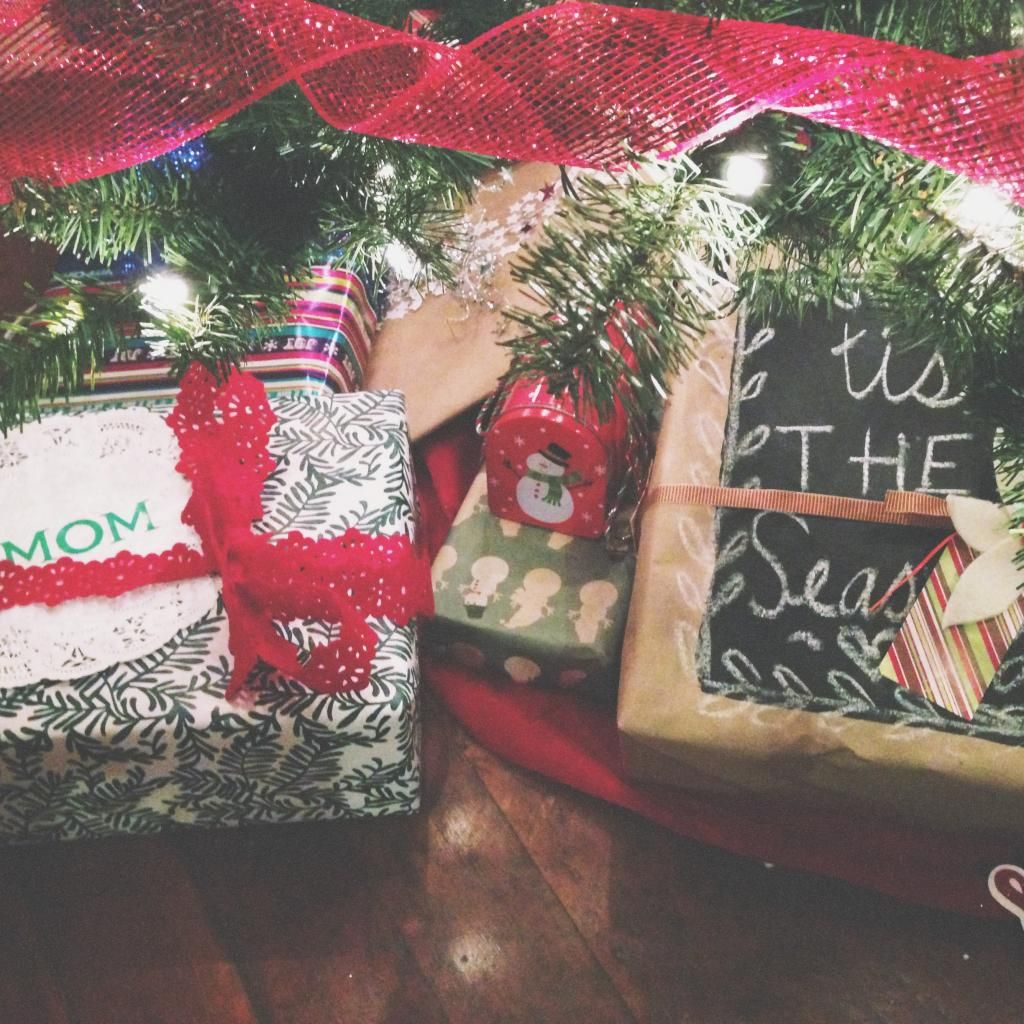 I mentioned the holidays were strange for me. For some reason, I had a super hard time getting in the Christmas spirit this year, which doesn't really make sense because on the surface it seems I did everything right. I tend to be the type of person who goes overboard on holidays. I think everyday leading up to the big day needs to be a major celebration. I understand that can be exhausting for people around me. I think it was exhausting for me as well this year. But I kept making Christmas goodies, putting up decorations, and forcing myself to watch any holiday movie I could get my hands on all hoping this void would be filled. I went to White Elephant parties (where my gift was literally a white elephant), I sang Christmas carols. Heck, Brian and I even organized the Christmas program for our church's party.
And let's not even talk about how much money we spent on Christmas lights this year. The sad part is, we didn't have some out-of-this-world light display. Munch the pooch kept being naughty and chewing through extension cords. Let's just say Brian and our dog didn't have the most cheery relationship through the month of December.
Anyway, I kept getting frustrated that I had this empty feeling during the holidays. Who was I? Scrooge?! The Grinch?!
I kept blaming it on the fact that we had no snow. Christmas just isn't Christmas for me if it's not a White Christmas. It's easy to blame things on the weather. But I think the void was actually there because I needed an attitude adjustment.
While the presents, and the lights and the snow are fun bonuses to Christmas, I think I kept forgetting the simple truth behind this special time of year. When you take all the chaos, food, parties, and glitter away, Christmas is really about a baby. He was sent here for us because God loves us. That baby, born in the most humble of circumstances, grew up to be a very brave man. He's the man who suffered and died for me so that I might overcome my faults and insecurities. He lived a life where He was often lonely, and He made that sacrifice so that I never have to feel alone. For that, I am very grateful. I know I said this post is just about Christmas, but let's delve into the new year a little bit. In 2015, I'm looking forward to strengthening my relationship with Christ and being able to understand my eldest brother a little better. I'm so very grateful for His life and example.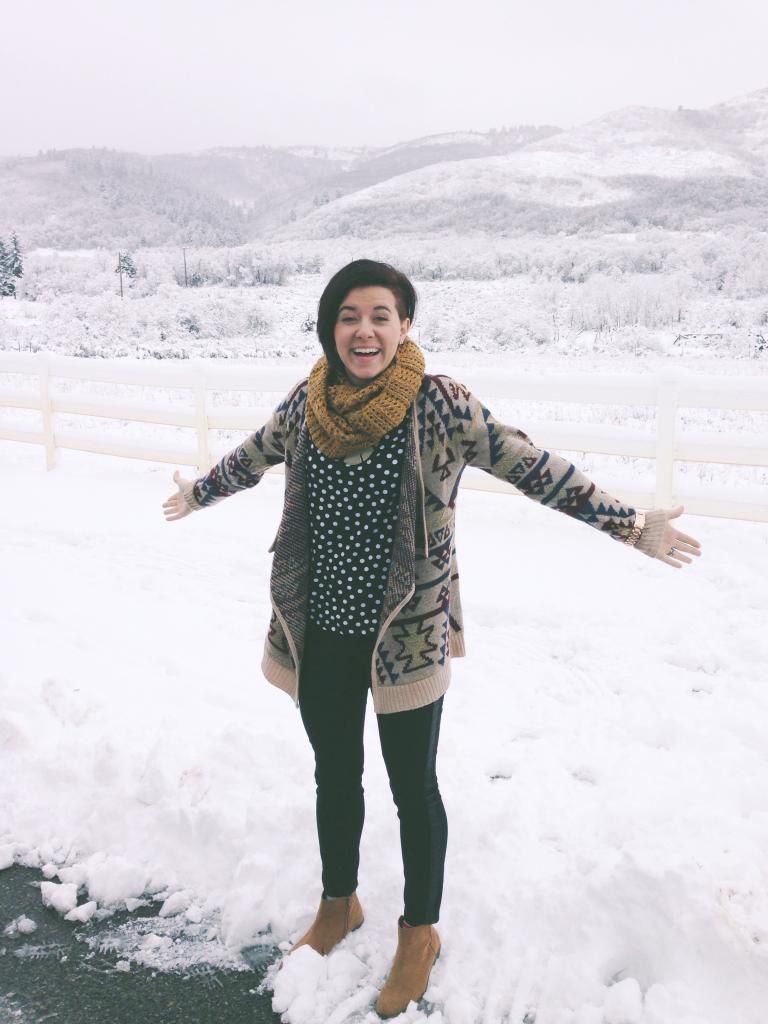 Now I know I really just needed to adjust my focus during the holidays, but I also knew a little snow would help my attitude. Christmas morning, I woke up to find my wild dreams came true. We fell asleep on Christmas Eve to dead, brown grass. We woke up Christmas morning to a thick and pure blanket of snow. That experience will make this Christmas one I will never forget. I didn't really want any presents this year . . . just some magical snow. God delivered!
And I know I'm late to the party . . . . but here's the Weller Christmas card if you missed it:
Are we hip or what?
XO