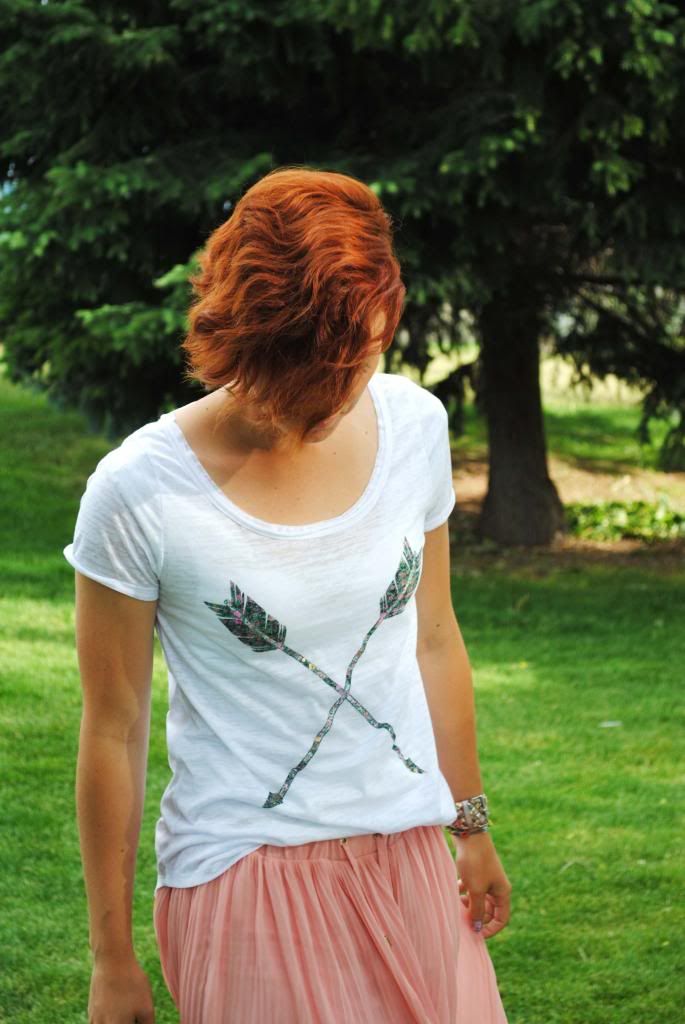 top: Maurices, skirt: F21, boots: Kmart, jacket: Gap
One of my favorite summer outfits is a fun t-shirt paired with a light skirt. I live in skirts during the summer. You see, I'm just not a big fan of Mormon-length shorts. Many people can pull them off but I don't believe I'm one of those people. So I can either choose to sweat it out in pants, or wear a skirt and just be careful to keep my knees together while sitting down. I usually choose the latter.
Also, may I just add that I love this whole arrow trend? Arrows are cute. Unless they are being used for their true purpose and being immersed in the flesh of a living thing, then they suddenly become less cute.
I wore this outfit on Thursday. After work, I went with my mom and sisters to "The Fault In Our Stars" and then we did a little shopping after. As expected, I sobbed violently through numerous scenes in the movie.
Walking out of the theater, I had to question why we as people do this to ourselves, subject ourselves to totally depressing literature and movies. Yet I do it all the time. The very best pieces of work (in my opinion) are the ones where everything doesn't end perfectly, where all the messes aren't completely cleaned up. I mean, take a look at Les Mis. It's pure genius, but really, why do we love it? Every single character seems to be wallowing in misery but we still eat it up. It's perfectly imperfect. Perfectly imperfect pieces of work are my favorite. I think because creating something that is so perfectly imperfect is the very most challenging thing. It's easy to create something where the hero wins and everyone rides off into the sunset living happily ever after. It's also easy to create something that is so depressing and awful that no one wants to touch it. The true difficulty lies in creating something that makes a person sad and happy all at the same time, it needs to have the right amount of tragedy in it to make it beautiful.
And with that being said, I'm still upset that Harry Potter didn't die in the end.
Well, I think I'll end before I go off on any other random interjections that make little to no sense. But I loved this outfit. I loved last Thursday. I loved spending time with my mom and sisters. They really are some of my favorite people.