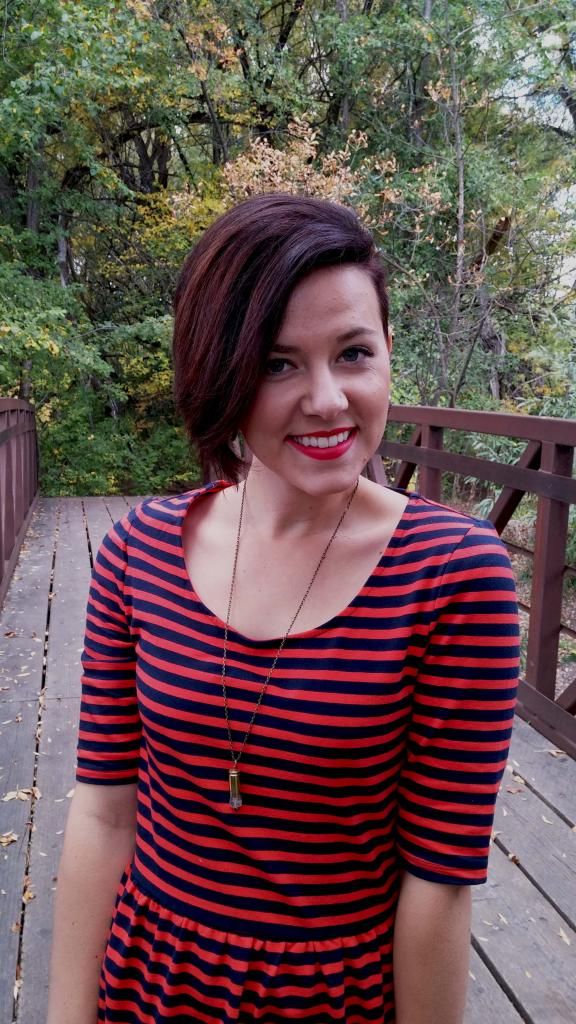 dress: Old Navy, tights: vintage, boots: Old Navy, necklace: Amalooo Jewelry & Art
My friend Monica was in town this Monday, and it was so great to see her after a year of being apart. Monica is a person who just radiates light. You want to be near her because she makes you want to be brighter and better.
Sadly, there are a few people in the world who aren't like this. There are people who are toxic and constantly negative. These people sometimes crush down on you like a heavy weight. You still want to love them, but it can be draining.
Monica isn't a heavy weight. She's a balloon person. She makes you feel like you have hundreds of colorful balloons tied to your arms and legs and they just lift you up, up through the air. Yes, I understand it's not logically possible for balloons to lift you off the ground . . . but let's just pretend we live in the world of "Up" for a moment. Monica is one of the many lifter-uppers I'm blessed to have in my life. And while she was in town, she randomly said to me, "I miss your Sunday Best posts on your blog. They're my favorite." Of course she said this basically because she's nice, but I thought I'd make the effort to do a Sunday Best just in case she was also being honest :). So this one is for you, Monica! I'm so glad I got to spend a day with you!
These photos aren't the best because my camera is dead. And I seem to have misplaced my battery charger. I ordered a new one off Amazon so hopefully it arrives soon. And since I bought a new one, I'm willing to bet my lost one will turn up as soon as the new one arrives, which wouldn't be entirely bad. Having a back-up is always a good idea, right? So since my camera was out, BWell took these on his phone and I think they turned out just fine.
I love this dress. Brian bought it for me a few days ago while we were in Old Navy. It was an awesome price, the cut is just lovely, and stripes are always in style! I see myself wearing this dress a lot in the future. If you haven't been to Old Navy lately, hurry your bum over there. I've been on an Old Navy kick. I just think there fall items are cute as a button (which is such an odd expression).
Happy Sunday! Here's to a great coming week. I'm going to focus my energy on being a balloon person.